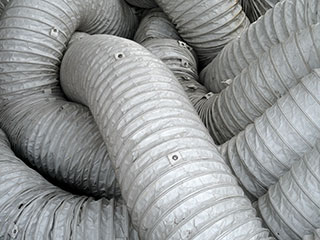 Flexible ducts are widely used in HVAC systems. The beauty of having flexible ducts is they can easily fit in tight spaces where standard ducts would not fit. For example, they will fit well around circular parts of a building. This means you can install an air duct well out of eyesight in an optimal location.
Most flexible air ducts are durable and can last for years
This is because manufacturers use durable materials such as aluminum and spring steel wire helixes to make them. To improve energy conservation, manufacturers use polyethylene vapor barriers to surround the air duct. It is also quite easy to install flexible ducts. You do not require any special skills or expertise.
In addition, most manufacturers adhere to regulations governing safety standards for flexible ducts such as air quality. On the fire safety front, manufacturers use materials that do not burn easily or release toxic fumes.
Before you buy a flexible air duct, make sure you check if it is susceptible to ultraviolet light damage. Remember UV light can cause your flexible air ducts to become brittle. As a result, such a duct will easily break if you knock it accidentally. The good news is most manufacturers use labels that contain information about a flexible duct's susceptibility to UV damage.
If you are conscious about energy conservation at home, go for an insulated flexible duct. A popular material used to insulate flexible ducts thermally is fiberglass. However, take note that a flexible air duct insulated with fiberglass will contain some formaldehyde. If you do not want to install a product that contains formaldehyde at home, you will have to go for an un-insulated flexible duct.
Finally, most manufacturers use antibacterial materials to insulate flexible ducts. This prevents fungus or bacteria from thriving inside your air ducts. In terms of size, most ducts have a standard size of 10 meters.