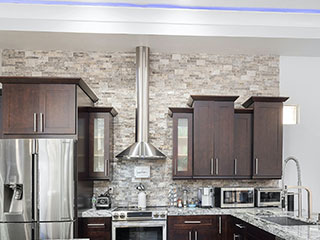 Kitchen ventilation is essential for homes and construction laws around the globe require builders to ensure they install ventilation systems in kitchens. Some of the common kitchen ventilation systems include; ventilation hoods, range hoods and exhaust fans. Even though builders install kitchen ventilation during construction, homebuyers can replace existing ventilation systems with systems that can provide better air circulation once they buy a home.
The main reason why proper ventilation is essential in kitchens is that it helps to eliminate the smoke, odors and humidity that emanate from processes such as boiling water and cooking. Kitchen ventilation is also vital in ensuring that the quality of air in a home is safe and it prevents health problems since some of the cooking stoves used in kitchens such as gas stoves release toxic carbon monoxide fumes. Additionally, during cooking processes, odors released by some foods can be overpowering and an effective ventilation system eliminates such odors and ensures that air in the kitchen always smells clean.
Overhead Fan Is More Effective of the Two Fans
To ensure that their kitchens have proper ventilation, some homeowners install ventilation hoods. There are two main types of ventilation hoods. A vented hood (which one can install on the exterior wall of the kitchen) works by pushing impure air outside. On the other hand, a vent-less hood filters impure air in the kitchen and returns it to the kitchen. It is important to clean or replace the filter on a ventless hood regularly to keep the air in the kitchen clean and dust-free.
Another type of system used to ventilate kitchens is the range hood. Homeowners place this type of hood above stovetops to force the smoke and grease released during cooking processes outside the house. While installing a range-hood system, it is important to ensure that the systems ventilation fan is on the outer wall to improve its effectiveness. Even though the traditional range hood sits above the stovetop, there are newer models that one can mount to a wall or slide out from under a cabinet located above the stove.
All in all, most types of kitchen ventilation systems include an exhaust fan to help in the effective dispersion of hot air and grease. Some of the main types of exhaust fans on kitchen ventilation products include; downdraft and overhead fans. The overhead fan is more effective of the two fans.